By:

Simon Richardson
Last update 10. December 2021
Reading time 3:12 min
About elmo
elmo's aims to be the easiest way to switch to an electric car. The elmo team believes that new technology should benefit everyone and work for a brighter, cleaner future for people and planet.
Customers can select and subscribe to an electric car in a few minutes on the platform. There's no deposit to pay and users can keep the car for as long as they like on a simple monthly subscription plan. Just 30 days' notice is required to return the car (just like Netflix or Spotify).
The basic package includes the electric car, comprehensive insurance cover, maintenance, breakdown cover and even a carbon offset donation (to account for emissions produced when the cars were built).
In other words, everything you need for truly Net Zero driving is included in a single monthly price.
Users can also choose to add a 'bundle' of services to their subscription to fit their lifestyle and preferences. These currently include a home charge point, public charging and home energy.
How it Works
The sign up process takes 5 minutes and is all done online.
Users register by uploading their driving license, proof of address, and a selfie
The elmo team runs identity and driving license checks to verify eligibility
elmo delivers anywhere in the UK and usually within 4 working days
Users get a physical key with the car and an online dashboard with all their driving data
The service is flexible with just 30 days' notice required to upgrade, pause, or cancel a subscription
Costs and Fees
The pricing aims to be competitive when compared with lease deals but with no deposit and no lengthy contract.
At the point of booking, users are asked to make a payment covering the following:
First Month of Subscription. The first month of subscription is taken upfront at the point of booking. Future monthly payments from the second month will be taken by Direct Debit.
Admin. There's a one-off £95 admin fee for each new booking. This helps cover the set up costs for running a flexible subscription service.
Delivery. This is free for the first 50 miles and then £1 per mile after that. There's a delivery calculator on their electric car pages.
Standard Package Pricing
The standard package is the monthly price each car is advertised for on the website. This includes:
Electric car hire
Comprehensive insurance cover
All scheduled maintenance & servicing
Breakdown cover
A carbon offset donation to account for manufacturing emissions
The standard package fee may vary depending on how long users choose to have the car and how many miles per month they need. The basic mileage allowance is 800 miles per month (though this rolls over so just needs to average at 800 miles per month for the period the user has the vehicle).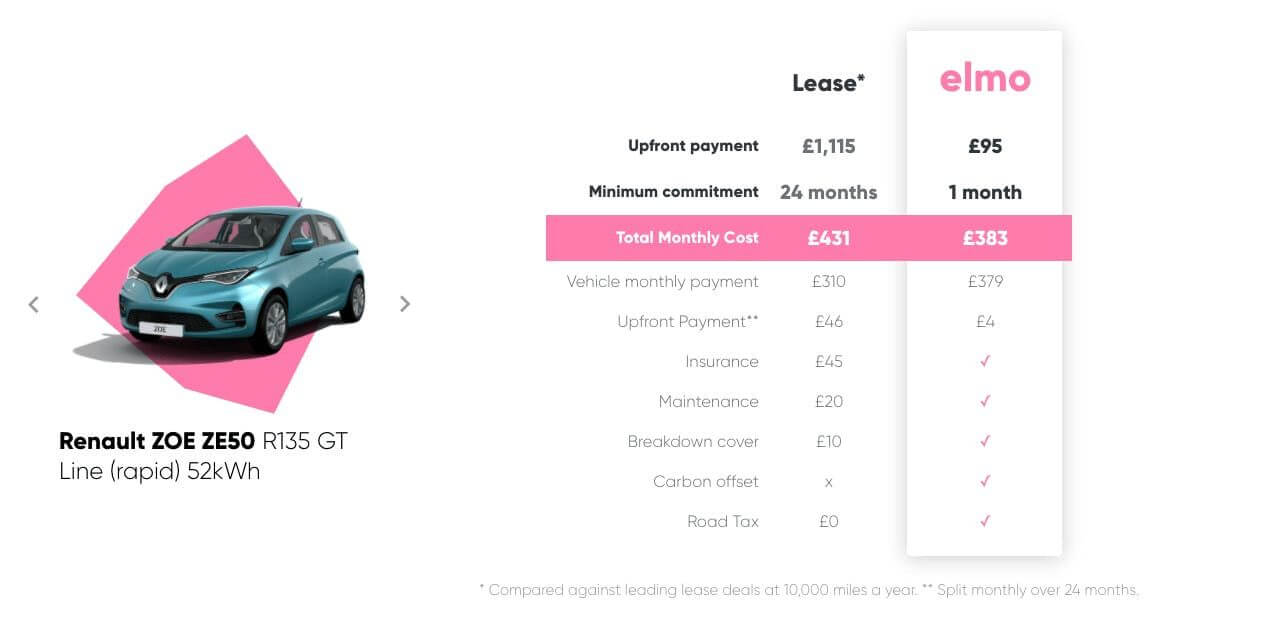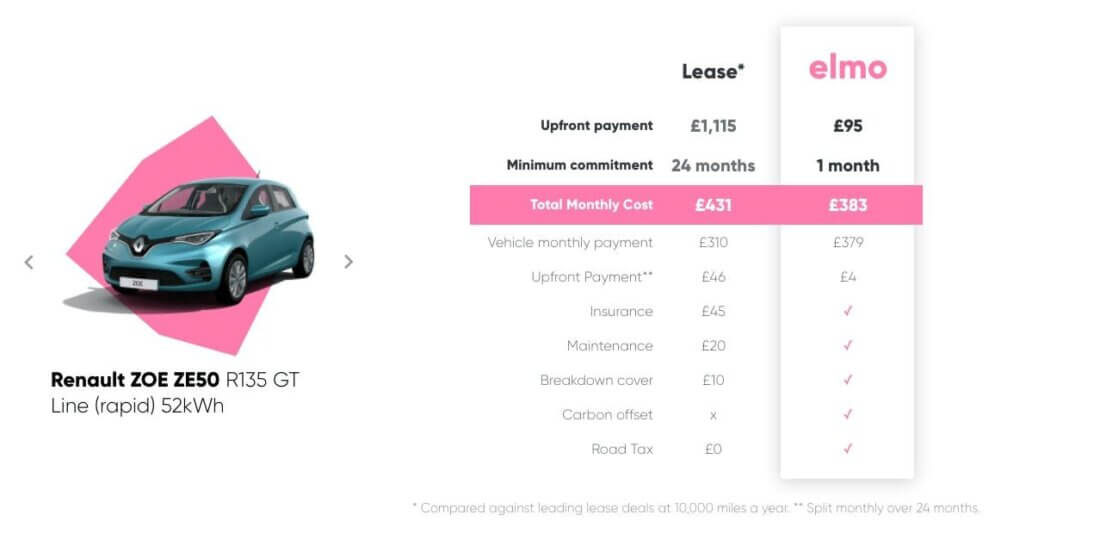 Customising the subscription
Users can customise their subscription to include extra options and features according to their lifestyle and preferences. elmo currently offers:
Home charge point – add an Ohme Charge point for an upfront installation fee of £125 (subject to terms) and £38 per month on a 12 month subscription or £76 a month on a 6 month subscription.
Home energy bundle – add 800 miles (or 200kWh) worth of energy for £20 a month – that's 10p/kWh. You have to join their partner, So Energy, to be eligible though!
Public charging membership – add unlimited access to the BP Pulse Network for £10 a month.
Additional Drivers – Add up to 2 additional drivers. It costs £10pm for each driver added.
Flexible Mileage – choose from 800, 1,000, and 1,200 mile packages.
Brands & Models
elmo only offers 100% electric cars. Here are a selection of the makes and models they have available on subscription.
Tesla Model 3
BMW i3
Polestar 2
Volkswagen ID 3
Honda e Advance
Kia e-Niro
Mercedes AQA
Fiat 500e
Renault ZOE ZE50
Nissan Leaf e+ Tekna
MG ZS EV
MG5
Vauxhall Corsa-e
Notice Periods
elmo needs 30 days' notice to change, cancel, or pause a subscription.
What's Special about elmo?
Here are the main benefits of switching to an electric car on subscription with elmo.
Price. The prices are competitive with lease deals, except there's no deposit to pay.
Flexibility. Users can keep the car as long as they like and return or swap it with just 30 days' notice.
Control. User get access to an online dashboard showing them their driving data from cost & carbon savings to mileage data and a driver safety score.
Simplicity. The monthly payment can cover every cost of 'owning' the car including charging.
Net Zero. The focus on electric cars and inclusion of a carbon offset donation makes each subscription Net Zero carbon.
elmo have developed an attractive proposition building on other flexible services. They have tried to set themselves apart by the focus on Net Zero, integrations with the energy eco-system and offering best in class customer service. They have also advised us that they are building out features to reward customers for safe and sustainable driving.
Videos
Conclusion
According to the elmo website, their mission is to help 30,000 people switch to an electric car by 2024. And thanks to the Net Zero nature of their subscriptions, this will stop nearly 100,000 tonnes of CO2 from entering the atmosphere each year in the process.
That's a laudable endeavour and the elmo team appear to have developed the right business model and tech platform to achieve it.