This article about GO breaks down everything you need to know about the company, how their contracts work, and what your options are with regards to extending, upgrading, canceling, and more. We've even given you a guide on vehicles and guide pricing, so you can easily compare subscriptions and make an informed decision.
By:

Simon Richardson
Last update 2023-03-03
Reading time 2:48 min
About GO
GO is a long-term car subscription company that markets itself as a service for people who want to flip their vehicle once every three years. The service is available in Atlanta, Charlotte, Dallas-Fort Worth, Houston, Miami-Ft. Lauderdale, Northern New Jersey, Orlando, and Philadelphia, with a growing base of operations. The company offers free delivery to customers within 50 miles of Atlanta Hartsfield-Jackson, Charlotte Douglas, Dallas Fort Worth, Houston George Bush, Miami, Newark Liberty, Orlando, and Philadelphia airports, and is available to subscribers with a US driver's license and a good credit history. There is also the option to purchase the vehicle at the end of the term at current market value.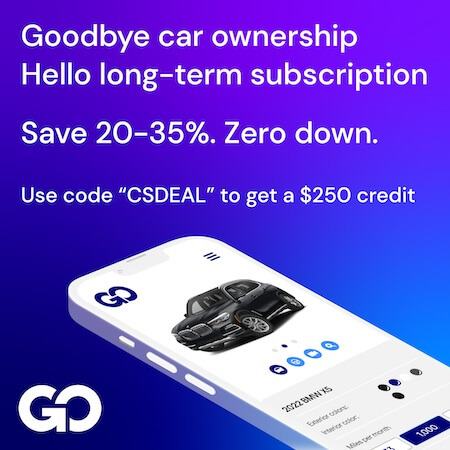 How it works
GO's subscription service is designed to be quick and simple for customers:
Choose a model, color and configuration, as well as mileage package of 833, 1000, and 1250 per month. Unused miles roll over to your next month
Submit your license and some basic information for approval. GO conduct a soft credit check and driver record evaluation
Arrange insurance through GO's provider (or use your own – Florida customers only)
Schedule delivery of the vehicle
After 3 years, return, extend, or purchase the vehicle
GO's cars are all new, with fewer than 10 miles on the odometer prior to delivery.
Cost and fees
GO does not charge a down payment, and the first month's subscription is payable up front. Tax is payable on top at a rate dependent on your zip code. Monthly costs per vehicle vary based on availability in different locations, but the available vehicles cover most budgets from economy to higher-end vehicles.
Customers have 72 hours to cancel their contract at no charge, but after that period, a cancellation would forfeit that month's payment, as well as incurring a $999 restocking fee. This requires 30 days' notice.Additional miles on top of your package are charged at GO's standard rate, and if you have an accident or damage the vehicle, the maximum deductible is $500 per claim.
Brands and models
GO's vehicle options depend on customer location, with a small range of large and small vehicles available in most places.
Nissan Rogue / Titan / Kicks / Altima / Versa
Chevrolet Suburban / Equinox
BMW X3 / X5
Mercedes C 300 / GLC 300 / E 250 / GLE 350
Notice periods
As GO operates on a specific 3-year subscription period, there is no notice period and a fee will apply if you wish to cancel before the end of the term.
What's special about GO?
GO's main USP is that the subscriptions are 20-40% less per month than traditional car ownership (lease and loan) due to their long-term nature, rather than being designed for customers who wish to regularly switch vehicles or have cars for a short time. There is good coverage for the service, which is expanding, and a wide range of vehicles, with a particularly good range to suit lower budgets.
Video
FAQs
Does GO have a mileage limit?
You can select 833, 1000, or 1250 miles per month with GO. You can also roll over any unused miles to subsequent months.
Does a GO subscription include fuel?
No, you are responsible for fueling and paying for your gas. The monthly subscription fee includes the car, insurance and tax.
How does maintenance work?
Some of GO's vehicles include maintenance according to the factory schedule, in which case you will only be responsible for presenting it at a garage in a timely fashion. Other vehicles do not have this included, so you will need to make sure you take the vehicle for regular maintenance as per your subscription terms.
Can I smoke in my car?
No, smoking is not allowed. If you return the vehicle and there is evidence that you have been smoking, GO will charge a cleaning fee.
Am I eligible for a GO subscription?
You must fulfill the following criteria:
Valid U.S. driver's license (no temporary or short-term licenses accepted)
Generally clean driving record
A permanent driver's license in the state where a Subscription is delivered
At least 25 years old
Verifiable source of income (proof of income may be needed)
Conclusion
GO sets itself apart from most other subscription companies by focusing on longer terms of 3 years. While this means there isn't the flexibility of other companies, who offer shorter terms and the ability to switch vehicles, it is aimed at providing a low-responsibility form of stable car ownership at an affordable price. There is also the chance to buy the vehicle at market price at the end of your term, meaning that if your circumstances change, it can act as a gateway to full ownership in the long run.